Our analysts are tracking over 1,350 project sites across all stages of development and onto fully operational assets. We are able to offer a full audit-trail of each site which includes:
Detailing the different developers involved at every stage and the operational asset owners
Build status; where in the planning process the project is currently sitting
Information about co-located generation sites with details of grid connections
Battery capacity, location and other valuable data-points to further inform your strategy and business development decisions
As of June 2023, the UK has more than 2.4GW of installed battery storage capacity and a total pipeline of planned capacity exceeding 66GW. The size of each project has grown significantly each year with the largest segment of this pipeline now comprising of sites over 100MW: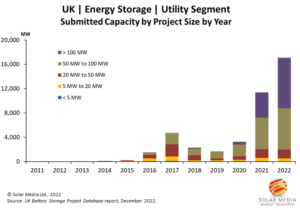 (chart from December 2022)
This report is trusted by the leading developers, investors, manufacturers integrators and optimisers pursuing opportunities in the UK. Subscribe to this report to gain access to monthly updates covering all battery storage sites being planned in the UK.
 Use the button above to request a free demo and see exactly what's in the report!