The UK is a leading global market for renewable energy investments and ground-mounted solar farms have been at the forefront of this investment since the first round of government subsidies were introduced over a decade ago.
The "Post-Subsidy" phase of development began in September 2017 and there's been no looking back since…
This report tracks the new solar sites being scoped and planned which have reached a total planned capacity of more than 85GW across 1,257 sites (updated July 2023).
This pipeline is comprised of legacy (distressed) ROC/CfD planning activity, a new raft of post-subsidy planning applications and the latest CfD projects in pot 4 of the most recent subsidy scheme.
Our unique tracking methodology has been tried and tested over many years and is trusted by the leading developers, investors, planners and service providers across the value-chain.
The report allows:
Full visibility of all developers' pipelines
Identify projects co-located with storage or other generation assets
Monthly updates highlighting all new sites added to the pipeline
Planning application details and updates on progress of the site
Full audit-trail showing the greenfield / late stage developer when assets change hands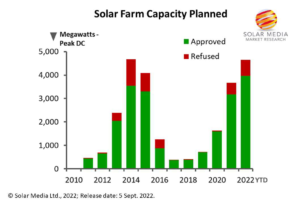 Submitted plans are now at record levels, exceeding even the height of the "solar boom" era, with many of the sites refused planning permission now securing approval at appeal stage.
Subscribe to this report to gain access to monthly updates tracking all utility scale solar sites being planned in the UK.
 Use the button above to request a free demo and find out exactly what's included.